Welcome to the Scholarship Café 2.0
The Milton Farmers' Market is thrilled to announce the return of the Scholarship Cafe at Country Heritage Park.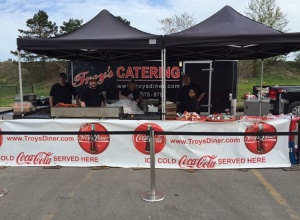 Since 1994, the Milton Chamber of Commerce has been serving up their popular Bacon-on-a-Bun sandwich at their Farmers' Market Scholarship Cafe, with proceeds going to the Chamber's Scholarship Fund.
In 2018 Troy's Diner took over operation of the Scholarship Cafe for the Milton Chamber of Commerce.  Troy's Diner has continued to serve Bacon-on-a-bun, but they also offer other favourites. Best of all, the Scholarship Cafe continues to contribute to the Chamber's Scholarship Fund.
About the Milton Chamber of Commerce Scholarship Fund
Since 1990, the Milton Chamber of Commerce has offered $1,000 scholarships to students attending their first year of post-secondary education; one for a student from each Milton high school including E.C. Drury for the Deaf, one for a high school student registered in an Ontario Youth Apprenticeship Program and one for a child of a Milton Chamber member.
The Chamber Scholarship Fund is also funded through the Annual Sports Celebrity Dinner & Auction. Proceeds from these initiatives allow the Chamber to ensure an ongoing endowment fund for advancing post-secondary education in our community.
For  Scholarship applications please visit miltonchamber.ca/scholarship-fund.