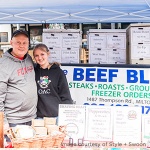 Description
All types of fresh/frozen beef, raised entirely in Milton on our family farm (century farm).
Open: 1-4pm Saturdays
Description
Roaming Free Dairy is a small, one person business established July 2021. Donna (business owner) makes and sells the cheese herself using local grass fed sheep milk sourced through Best Baa Dairy in Fergus. Donna loves seeing people enjoy her cheeses! She has worked as a cheesemaker for 5 years and recently completed a one year cheesemaking certification program through Conestoga College in May 2021. Grass fed, small- batch, artisanal sheep cheese. Labneh cheese (soft spreadable cheese), halloumi (the perfect grilling cheese), queso fresco (mexican cheese), ricotta, semi-hard cheese (slightly aged), feta.
Description
We have been in the deli business since the 60's. My parents brought there recipes from Italy when they came to Canada, and we have been selling our products at markets all over Ontario.