Description
All types of fresh/frozen beef, raised entirely in Milton on our family farm (century farm).
Open: 1-4pm Saturdays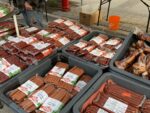 Description
We have been in the deli business since the 60's. My parents brought there recipes from Italy when they came to Canada, and we have been selling our products at markets all over Ontario.